Translations of What Does God Want
Each of these translations of Michael S. Heiser's book, What Does God Want are free and may be distributed globally if they are unaltered and provided without charge.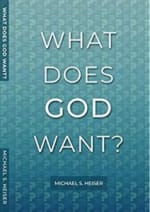 About the above downloadable files
ePub: .epub file, compatible with the various e-book applications
Mobi: .mobi file, compatible with the Amazon Kindle application
PDF: .pdf file, compatible with the Adobe PDF Reader application
Word: .doc and .docx files, compatible with the Microsoft Word application
While we seek to provide clean and safe files, we strongly recommend that you use antivirus, anti-malware, and the like to verify the safety of any file that you download via the internet, including files on this site like the ones above. Remember
Terms of Use
apply.
Apple, Microsoft, Word, Windows, Adobe, Amazon and Kindle are trademarks of their corresponding corporations and their use is not intended to be or suggest affiliation with or to be an endorsement by them.